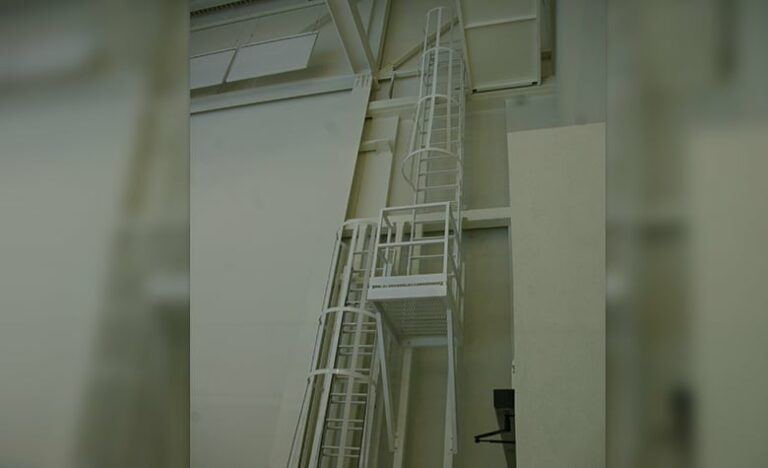 Precision offers a complete line of aluminum wall ladders custom fabricated to exact field measurements. Precision's ladder treads are a full 2-1/4″ in width and they are deeply serrated to maximize traction. These ladders have been thoroughly tested for strength, and are able to withstand a 1500# loading without failure. Individual treads are attached to siderails using 4 rivets rated at 1100 lbs. shear strength each, and have been tested to 3,000# without deformation. Additionally, all edges on the siderails and treads have been rounded to provide a more comfortable, powerful grip for the hands. Ladders in excess of 24′ length must be equipped with a personal fall arrest system, ladder safety system, cage, or well. Precision offers cages as well as landing platforms as required by OSHA 1910 Subpart D and other regulatory bodies in certain situations. Mill finish is standard.
Other options include:
Security Door with piano hinge and padlock provision
Floor brackets with pre-drilled holes for attaching ladders to the floor
Safety Pole Fall Prevention Systems
Anodized Finish
Powder Coated Finish
Precision also provides roof access from a building's interior by combining an FL series ladder with a roof hatch.
02Specifications for FLH-Series Ladder
03FLH-Series (tubular side rails) Ladder Details
04Tubular Fixed Ladder with Fall Arrest System to Roof Hatch
05Tubular Fixed Ladder with Walk-Thru & Fall Arrest System
06Tubular Fixed Ladder with Parapet Platform, Roofside Return & Fall Arrest System
07Tubular Fixed Ladder with Walk-Thru & Cantilver Platform
08Tubular Fixed Ladder with Overshoot & Fall Arrest System
09Tubular Fixed Ladder with Cantilever Platform & Fall Arrest System
10Tubular Fixed Ladder to roof hatch
11Tubular Fixed Ladder with cage and walk-thru
12Tubular Fixed Ladder with Walk-Thru
13Tubular Fixed Ladder with cage to roof hatch
14Tubular Fixed Ladder with parapet platform and return ladder
15Tubular Fixed Ladder with cage platform and return
16Security Door for Fixed Ladder with Fall Arrest System
17Security Door for Fixed Ladder
18Security Gate for Fixed Ladder