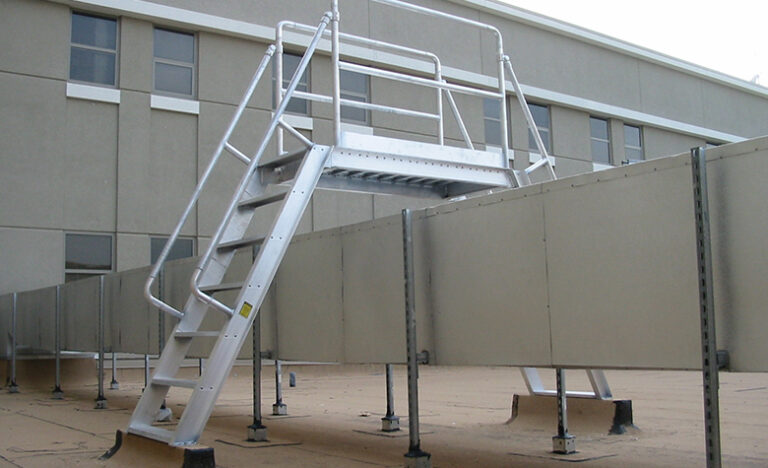 Aluminum Ships Stairs (Ships Ladders)
The two most important features of Precision's Ships Stairs, also known as Ships Ladders, are easy installation and no maintenance. The relative weight of these units compared to a steel unit makes it a breeze to install, and as with the fixed aluminum wall ladders, its aluminum construction also makes it virtually maintenance free. A Ships Ladder is an ideal solution for mezzanine access, or when crossing over items when combined with a platform between stairs to bridge over the obstacle.
Some important characteristics of a Precision Ships Ladders are:
All components shall be aluminum alloy 6005-T5
Stringers are 5″ x 2″ x 3/16″ aluminum channel

Treads are 5-3/16′′ x 1-1/4′′ x 1/8′′ extruded channel with deeply




serrated surface to maximize traction

Handrails are 1-1/4″ schedule 40 pipe
Mill finish aluminum
Available in pitches from 60 degrees to 70 degrees
Available as options:
Wider tread widths up to 48″ maximum
Other finishes: anodized, powder coated
Bar grating treads
Precision also provides roof access from a building's interior by combining an aluminum ships stair with a roof hatch. Precision's Ships Ladders are built to meet or exceed OSHA 1910 Subpart D.
02Ships Stair Specification
03Ships Stair to roof hatch
04Ships Stair w- walk-thru and platform
05Ships Stair with 42 in. walk-thru (for mezzanine access)
06Ships Stair Crossover (stair with landing and return stair)