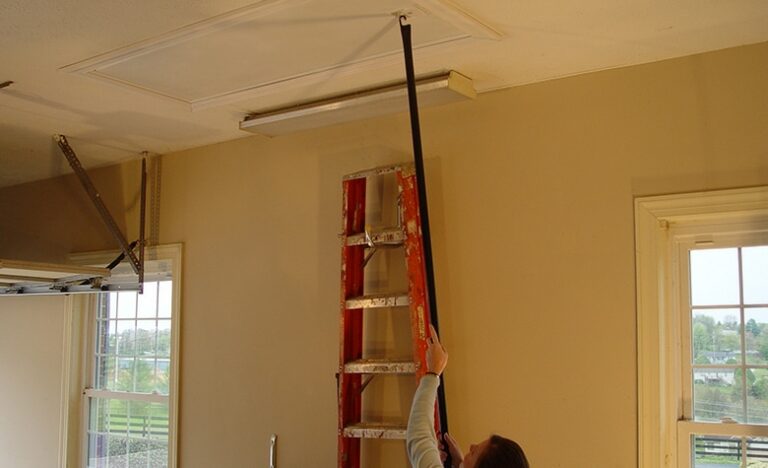 Super Simplex Attic Stairs
The Super Simplex is Precision's commercial-grade aluminum attic stairs. These are the most structurally superior folding stairway on the market today. Their primary use is  attic access, but when fitted with a Precision roof hatch can be used for roof access.
Compare these features to other attic stairs:
Can be used for ceiling heights up to 12′ 0″ in commercial applications and up to 13′ 6″ for residential use
A 5-3/16″ tread depth
Unit test weight of 500 lbs.
Individual tread test weight of 1000 lbs.
No shear of rivets when tested at 2000 lbs.
11 gauge steel frame

Frame depths to accommodate the difference between the ceiling

level and the attic or roof deck (up to 8' deep frame)

Opening widths from 22-1/2" to 39"
Availability of optional 2-HOUR FIRE-RATING
The Super Simplex is the only pull-down stairway available with a frame complete with built-in treads custom fabricated to the exact distance from ceiling to floor above, thereby accommodating dropped ceilings.
For secure access to rooftop equipment, Precision offers a package unit consisting of a folding stairway, a custom frame to fit distance from ceiling to roof and a custom roof hatch factory-mounted to the top of the frame. This entire unit can then be dropped in from above, secured and flashed in for safe, comfortable roof access.
The Super Simplex allows attic space to be reclaimed for storage purposes without the need for a permanent stairway. Many national companies are already using the Super Simplex to maximize use of floor space. Some typical applications are: airport control towers, banks, better residences, bottling plants, churches, drug stores, government buildings, hospitals, laboratories, libraries, museums, restaurants, schools and retail stores. While theses attic stairs were originally designed for commercial installations, they are also available in sizes to fit standard residential truss spacing and ceiling heights of up to 13′ 6″.  Precision's Super Simplex Disappearing Stairways are built to meet or exceed ANSI A14.9 Safety Requirements for Disappearing Attic Stairways.
02Super Simplex Specification
04Simplex for ceiling height of 9′ 9″ or less with standard box frame
05Simplex for ceiling height of 9′ 9″ or less with angle frame for dropped ceilings
06Simplex for ceiling height of 9′ 9″ or less with angle frame to a roof hatch
07Simplex for ceiling height of 9′ 9″ or less with deep box frame to a roof hatch
08Simplex for ceiling height of 9′ 9″ or less with deep box frame for dropped ceilings
09Simplex for ceiling height of 9′ 10″ – 12′ 0″ with standard box frame
10Simplex for ceiling height of 9′ 10″ – 12′ 0″ with angled frame for dropped ceilings
11Simplex for ceiling height of 9′ 10″ – 12′ 0″ with deep box frame for dropped ceilings
12Simplex for ceiling height of 9′ 10″ – 12′ 0″ with angle frame to a roof hatch
13Simplex for ceiling height of 9′ 10″ – 12′ 0″ with deep box frame to a roof hatch
14Simplex for ceiling height of 12′ 1″- 13′ 6″ with standard box frame
15Simplex for ceiling height of 12′ 1″ – 13′ 6″ with deep box frame for dropped ceilings
16Super Simplex O & M Manual (Includes install instructions)
17Aluminum Guardrail System – Floor Mount